International Tourism Publishing House
Our company was established in 1991 (29 years)
---

International Tourism Magazine (published since 1992) is the best known tourist magazine in Ukraine. International Tourism Magazine of one of the most popular tourist publications in Ukraine, it is read by Ukrainian travelers and travel agencies. Our Magazine co-operates with Tourist Boards of Switzerland, Spain, Tanzania, Sri Lanka, Poland, Serbia, Dubai, Thailand, China, Croatia, Turkey, Indonesia, Finland, Tunisia, Czech Republic, Hungary, Malta etc.
Circulation: 20.000 copies.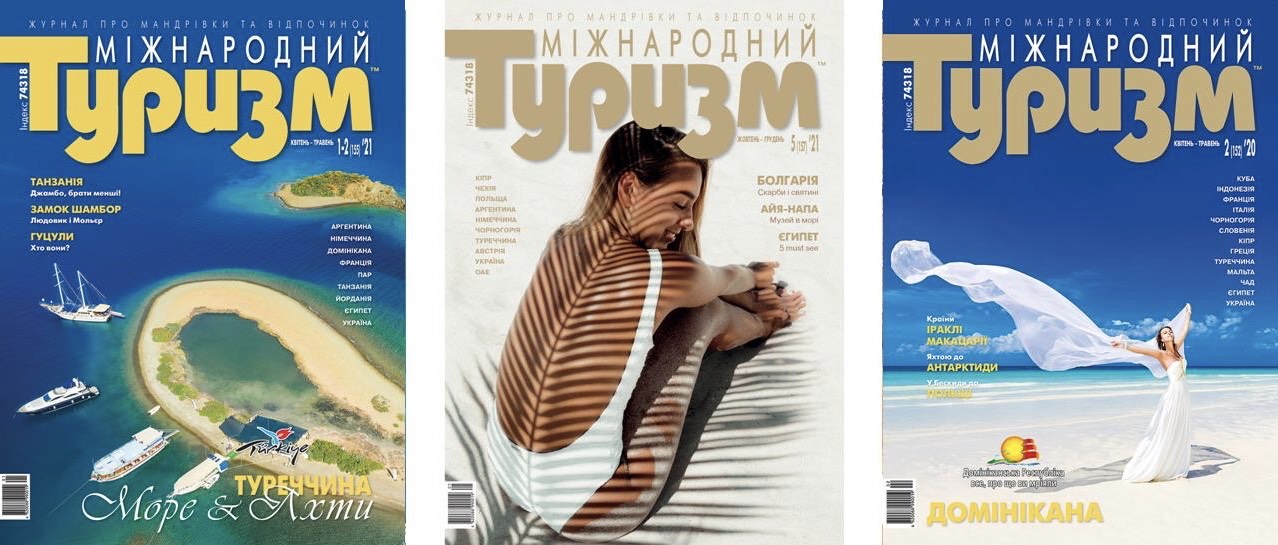 ---

SPA & Wellness & Medical Tourism Magazine
The unique edition of International Tourism Magazine. This issue of travel magazine was dedicated to SPA & Wellness & Medical Tourism industry. Now healthy tourism is very popular in the world and also in Ukraine. Distribution — VIP and luxury segment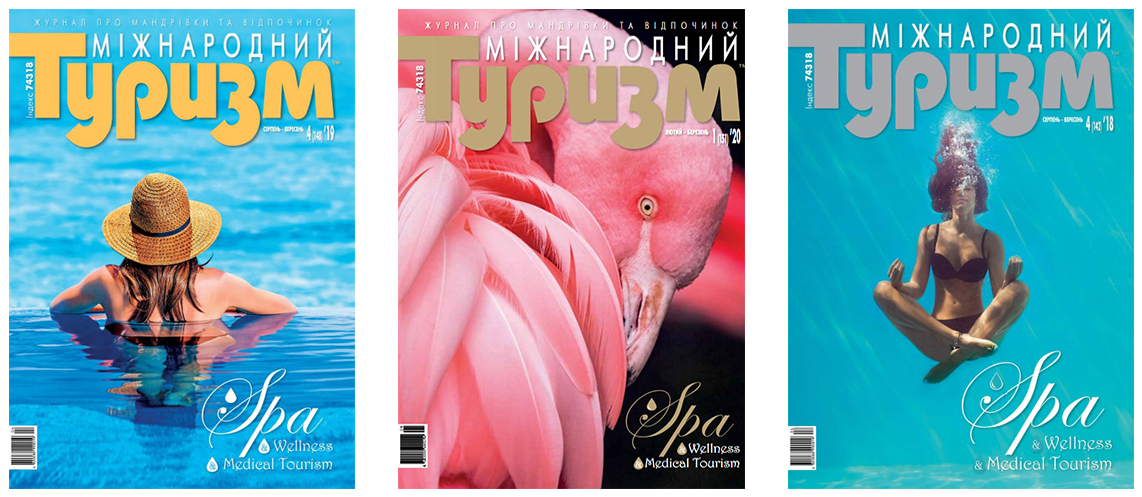 ---

Catalogue of Tours Magazine (since 2002) is a free consumer magazine that suggests the best places to go for rest and recreation, prestigious tourism agencies and companies, features articles on culture of many countries worldwide, etc.
Circulation: 50.000 copies, free distribution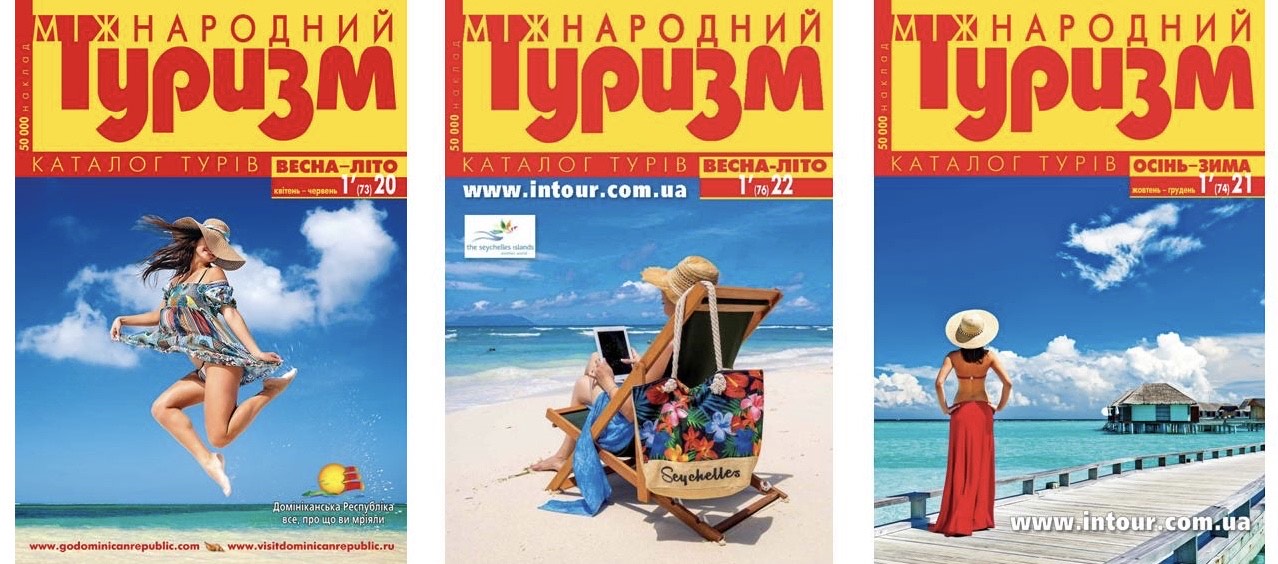 ---

Welcome to Ukraine Magazine (since 1997) — We tell the world about Ukraine in English.
Welcome to Ukraine Magazine is a periodical designed to give foreign readers a wide range of information about Ukraine, running articles on travels, history, culture, economy, personalities, and supplying relevant news items of significance. Magazine targets the English-language readership from many walks of life, the curios and business-minded included.
Circulation: 20.000 copies.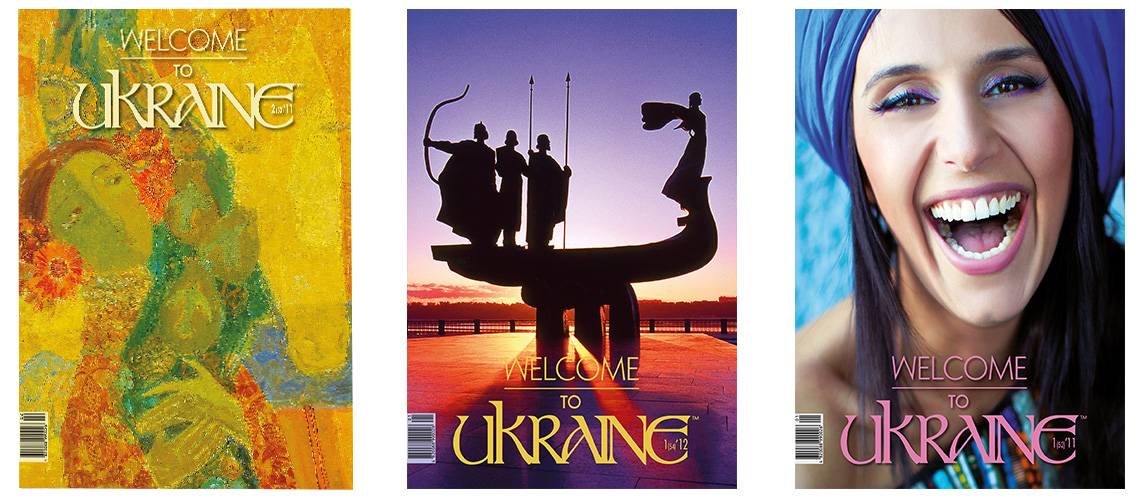 ---

Our awards: In 1998 magazine was recognized as the best tourism periodical in Ukraine.
The magazine is the recipient of almost all best known prizes which are awarded in Ukraine to tourist publications, among them the Zolote pero (Golden Pen) Award (2006).
The magazine has also won international awards: Silver Inkpot from Dubai (2007) and Friends of Thailand Award from the government of Thailand (2010), National Tourism Award! from Georgia (2016).
In October 2017, the National Register of Records of Ukraine awarded a record:
The longest period of publication of a printed periodical mass media about travelling — International Tourism Magazine. 25 years and 10 months.

---

Printing Products
International Tourism Publishing House produces all sorts of print materials — magazines, books, booklets, brochures, catalogues and other materials, and undertakes to have them printed.
We have published printing products for different countries for many years. We make the design of lay-out and print of brochures, booklets, flyers as well as other high-quality
printing products and promotional items with delivery to the event.
---

The company was the co-founder and organizer of the UITT travel exhibition for 7 years. It was the first travel exhibition hold at Ukrainian tourism market. More than 50 countries take part in UITT travel exhibition under our guidance.
---

We are unchangeable general informational sponsors of Ukrainian travel and tourism exhibitions UITT (spring) and Ukraine UITM (autumn).